News
Latest research and updates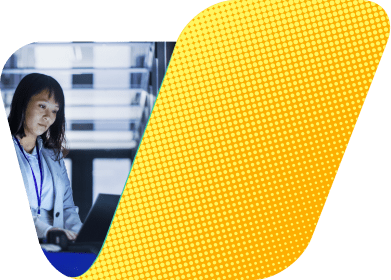 In IT Together blog: Is technology a trick or treat?
25 Oct 2021
---
Technology is a core part of our personal and working lives. But are we really that comfortable using it? And can organisations keep up with the pace of change in technology?
With Halloween on the horizon , in our latest In IT Together blog article, we explore some 'terrifying' truths from our IT decision makers in relation to technology in their workforce.
When there's something strange… who you gonna call?
When it comes to technology issues in organisations, it is of course the IT department that bears the brunt of employee queries, problems and concerns, which makes it well-placed to estimate the levels of technophobia being experienced. According to surveyed IT decision makers (ITDMs), 42% of employees in their organisation have suffered from technophobia, on average. Putting this into perspective, in an organisation with 10,000 employees, over 4,000 are believed to have feared, disliked or avoided new/advanced technology or complex devices. Employees in the US are more likely to have suffered compared to their UK counterparts (US: 44%, UK: 37%).
Is the pandemic perpetuating technophobia?
As one thread of its widespread disruption, the COVID-19 pandemic flipped the world of work upside down, forcing many organisations to urgently react and adapt. There was no time to carefully implement a remote working model, instead employees from across the globe had to adjust to new ways of working in the blink of an eye. Already a central pillar , technology pushed even more to the forefront across a range of sectors and ultimately, many of us would not have been able to continue our work if it wasn't for its use. We've become so dependent on it in our personal and working lives, and the events of the past 18 months have hammered home that point.
Now as we cautiously look ahead, have we actually taken a step back and considered the impact this has had? Perhaps through the sudden, enforced adoption of new technologies or maybe signs of a digital backlash due to the rise in necessary screen time in our daily lives, our recent blog results show that over four in ten (44%) ITDMs believe the pandemic has increased technophobia in their organisation. Remarkably this is almost three times as likely in the US (57%) than it is in the UK (20%).
Scaring away technophobia
Encouragingly, ITDMs recognise the need to reduce the level of technophobia in their workforce, with 97% stating they need to support employees to overcome it. Around seven in ten (69%) feel that IT training needs to improve and now, more than ever, could be the time to invest in hardware or software that is easy to use, with 45% believing that this would reduce technophobia.
We must not forget the important role that company culture plays in this too. For 41% of ITDMs, their organisation's culture needs to change to encourage the use of new technologies. Senior leaders and managers play a big part in this - if they don't support or encourage the use of new technologies, how can they expect their employees to do the same? This hasn't gone unnoticed as 28% of ITDMs believe ensuring management buy-in of new technologies is important when supporting employees with technophobia. A strong company culture attracts better talent and more importantly, it retains that talent. If organisations continue to have part of their workforce struggling with technophobia, they risk valuable members of the workforce leaving.
Spooked by data privacy and security
Unsurprisingly, at the backbone of technology fears are data privacy and security. Over a third (35%) of ITDMs feel the quality of their data protection solution(s) should be improved, while 27% say the security budget should be increased, in order to support employees facing technophobia.
In fact, when we asked what personal fears ITDMs have with technologies, the majority (86%) express worries over data privacy and security . It is IoT (45%) and AI (44%) that are most likely to raise concern, while robotics/automation (28%) and virtual/augmented reality (24%) follow closely behind.
So, what is the solution to alleviate these concerns? Well, it would seem the IT department have a key part to play in this, with 82% stating there is ever increasing pressure being placed on IT departments to ensure the security of the company's digital assets.
Fearful of job replacement
Perhaps a more long-term fear, although nonetheless still concerning, is job replacement . Around three quarters (73%) of ITDMs are concerned technologies could replace their job in the future. This is much more likely for those based in the US, with almost double the proportion fearing job replacement compared to those in the UK (US: 86%, UK: 45%). Of course, machines replacing jobs is nothing new and has been happening for many, many years as economies grow and industries develop – but it's a trend that's now accelerating faster than ever before.
Similar to data privacy and security concerns, it's the next gen technologies that are most likely to be raising job replacement fear, such as AI (43%), robotics/automation (39%) and virtual/augmented reality (22%). We've already seen a wide range of support needed by employees struggling with technophobia, but perhaps more should also be done to alleviate some of the concerns around job replacement too.
What's lurking behind the corner?
Concerns don't end there though. Fear of the unknown is also a key cause for concern, and so it should come as no surprise that almost two-thirds (65%) of ITDMs interviewed state the pace of change in technology is making it difficult to keep up. Yet, almost 4 out of 5 (79%) agree that their organisation could improve its ability to adopt new technologies. While on the surface it may appear paradoxical, the issue continues to centre around support; exactly half (50%) of those interviewed state a failure to train employees in the use of new technologies as the biggest challenge to implementing them within their organisation – a sentiment that's consistent on both sides of the Atlantic (US: 55%, UK: 48%).
But do we only have ourselves to blame? US employees are perceived as being more resistant to adopting new technologies, according to 41% of those interviewed, with only 27% of their UK counterparts feeling the same. Dare to delve deeper and you'll find that 54 % of ITDMs perceive line of business (LOB) administrative and office workers as having a heightened level of resistance, again more pronounced in the US (57%) than the UK (48%). LOB DMs and managers however don't fare much better, at 47% overall and similarly more noticeable in the US (54%) than the UK (34%).
Or is a lack of leadership the culprit? Over four in ten (42%) ITDMs would describe the level of resistance to adopting new technologies from the most senior level in their organisation as very or somewhat high. This view is also divided with nearly half of those in the US (47%) agreeing compared to only a third in the UK (34%).
However, a clear alignment among the ITDMs interviewed emerged when it comes to direction, with just over a third (36%) citing a failure to implement the correct systems and procedures and just over a quarter (27%) citing a lack of management buy-in of new technologies.
Look behind you!
Over a third of those interviewed (35%) fear rushing into adopting new technology just to keep up with the competition is the biggest challenge in successful implementation of new technologies within their organisation. With the pace of digital transformation being at an all-time high, perpetuated by the global pandemic and for many a drive to a new hybrid working model, 59% feel too much focus is being placed on implementing new technologies without maximising the value of existing ones. Both US and UK counterparts are aligned in looking to drive maximal benefit out of the technologies currently implemented, driving both an increase in ROI as well as simultaneously impacting the bottom line.
Fear of getting caught (out)
As technology continues to develop at pace, so too do the fears surrounding them. ITDMs are still human after all, and we all get spooked when in unfamiliar territory. Whether these fears are indeed unfounded or instead frightfully rational remains to be seen.
What is clear, is that as the world continues to evolve, so too will the technologies that are being developed. While the age-old adage of "if it ain't broke, don't fix it" may not always ring true, perhaps it's still worth paying an element of heed. Organisations need to continue to look to the future to embrace new technologies and develop their competitive advantage, but not at the cost of the present. Investment in existing technologies, and the workforce using them, will pay dividends in developing and retaining internal talent, alleviating a creep in technophobia and ultimately helping to secure the long-term success of an organisation.
Methodology
300 IT decision makers from across the US and UK were interviewed in September 2021. All respondents were from organisations in the private sector, with 1,000 or more employees.
Discover more technology research insights and inspiration on our blog and explore the work we do for our clients via our Project Portal. Talk to us about your next research project - get in touch with Lauren or David to discuss your ideas further.
Interested in receiving news like this in your inbox? Sign up for our monthly newsletter here
---