News
Latest research and updates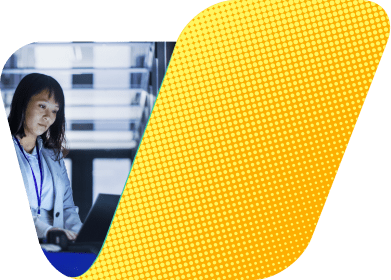 In IT Together blog: Finding the balance between operation and innovation
25 Feb 2021
---
In our January blog, Katie and Ellie identified some of the key technology trends under consideration by IT decision makers in 2021 and beyond. Despite widespread, on-going disruption being felt across industries we uncovered signs of cautious optimism for the way forward – driven by a focus on new technologies.
Organisations have shown great resilience, with thanks in part to technology
This month, we wanted to explore the specific challenges associated with new technology while also investigating its ever-increasing role in businesses as an enabler of productivity. Of course, with any new technology, large or small, it's rarely the case that you can simply 'plug and play' but it's not just the implementation of new technology that's the challenge - for just over three quarters (77%) of respondents it's the pressure their organisations feel they are under to keep up with new technology demands. While this pressure is nothing new, the majority (82%) agree that it has certainly increased in complexity in current times due to pandemic-related disruption.
Echoing Katie and Ellie's findings, the majority (91%) of respondents agree that organisations who don't keep up with new technology demands risk falling behind their competitors which only emphasizes the importance of innovation in keeping the lights on for businesses during the pandemic. For many, the pandemic may have acted as a catalyst for driving their digital transformation and innovation efforts which brings with it the positive impacts that new technology can have on productivity.
Innovation: helping organisations jump operational hurdles
For organisations today, it's a question of balance. On one side they're constantly on the lookout for technology that can give them an extra edge in a crowded market, but on the other side careful attention needs to remain on ensuring day-to-day operations run smoothly. Alongside the potential benefits and opportunities of new technology, inevitably come new challenges. For just under half (47%) of respondents, one of the most likely hurdles associated with keeping up with new technology demands is maintaining security. This has been, and always will be, of critical importance for organisations to ensure they're compliant with data laws, reducing their vulnerability towards threats, and lowering the risk of data breaches and in turn, downtime. Maintaining security is already a 24/7 job for organisations, and on top of this, 85% of respondents agree that doing so while keeping up with new technology demands can be difficult.
Beyond security, there are other factors at play which hold organisations back in the race to keep up. Around four in ten (39%) regard integrating new technologies with their existing ones as one of the biggest barriers faced, while for a third (33%) it's the decision of which new tech to prioritise. While it's encouraging to see organisations pushing to invest and innovate, it's clear that they could use some guidance – this is where IT vendors can play a key role.
Interestingly, for almost a third (31%) the matter of training staff to keep up with new technologies was one of their most challenging tasks. Perhaps more than ever before in such a short space of time, organisations and their employees have been forced to embrace new technologies and different ways of collaborating following the mass migration to remote working in many sectors. In the next section we explore the impact that disruption caused by the global pandemic has had on employee productivity, and how organisations hope to tackle some of these newer challenges.
Employers are having to increasingly adapt to accommodate the evolving needs of their workforce
The merge of our professional and personal lives has raised complications, ones which cannot be so easily separated nor balanced. Employers are recognising this increasingly hybrid way of working, and flexible working is high on the agenda with an aim of improving overall productivity levels. 88% of respondents report their organisations are open to allowing staff to choose where they work, with over half (56%) already having done so and around a third (32%) planning to do so. These proportions extend similarly to allowing staff to choose when they work (82%), substantiating the importance of accommodating the needs of their workforce to drive an increase in productivity.
Another key focus area recognised by employers is wellbeing. The majority (89%) say their organisation has either already increased investment in this area or is planning to do so, suggesting that what might once have been considered a perk to work remotely now brings with it new challenges, and traditional norms no longer apply.
With a remote workforce for many organisations translating to distributed teams and newly created siloes within, one might expect the impact on productivity to have been significant. Not surprising then that facilitating collaboration has been key, with almost all (95%) respondents' organisations having allocated investment in collaboration tools or having plans to do so. Perhaps in line with the course taken by the pandemic, the UK lies ahead with 80% having already invested, while the US follows with just over two thirds (68%) having done so and just over a quarter (27%) planning to.
As physical distance increases, how do we work together more closely?
While overall there was an alignment of priorities between the US and UK, monitoring productivity has raised an interesting divide. Two thirds (66%) of respondents' organisations either planned to implement or have already implemented time tracking tools on their employees' devices – the US led the way with 82% falling into this category. In fact, the UK lagged considerably behind with around a third (35%) having any intention of doing so, and over half (56%) stating that they had no plans to do so in the future. While the US may be considered a leader in adopting new technology, one might interpret the UK as having more trust in their workforce.
Get this transition right, and organisations might well see a positive shift in productivity
It's clear that new technology has and will continue to play a significant role in keeping the lights on for businesses as we manoeuvre through this pandemic together, but along with the many challenges we've faced we also find ourselves presented with new opportunities. Technology and productivity appear to be intrinsically linked – the vast majority (93%) of IT decision makers believe that keeping up with new technology demands is imperative to driving increased productivity. When asked the extent to which their organisation's productivity levels have been impacted because of remote working brought on by the pandemic, over half (57%) of our respondents stated that productivity levels have in fact increased – and 22% said they weren't impacted.
The pandemic may have driven an accelerated evolution in the way we work but getting the response right may uncover some hidden benefits in the longer term.
Methodology
300 IT decision makers from the US and UK were interviewed in January 2021. All were from organisations in the private sector, with 1,000 or more employees.
For more research ideas and inspiration, explore our project portal and get in touch with David or Jess today to discuss how Vanson Bourne can support your organisation's insight goals.
Interested in receiving news like this in your inbox? Sign up for our monthly newsletter here
---